On November 11, Sixth Street Miami Partners LLC and KAST Construction celebrated the topping off of Natiivo (601 Miami), a 51-story mixed-use building located at 601 Northeast 1st Avenue in Downtown Miami. It's a milestone in the completion of the 588-foot-tall luxury residential/hotel tower, which is set to open in late 2023.  Major players involved in the building's development attended the Veteran's Day celebration, including, GFO Investments, Menin Hospitality, Cervera Real Estate, Arquitectonica, Urban Robot Associates, Gale Hotels, and L&R Structural Corp.
The event celebrated the final pieces of the structure being added to the sky-high tower, which was decorated with a large American Flag during the ceremony.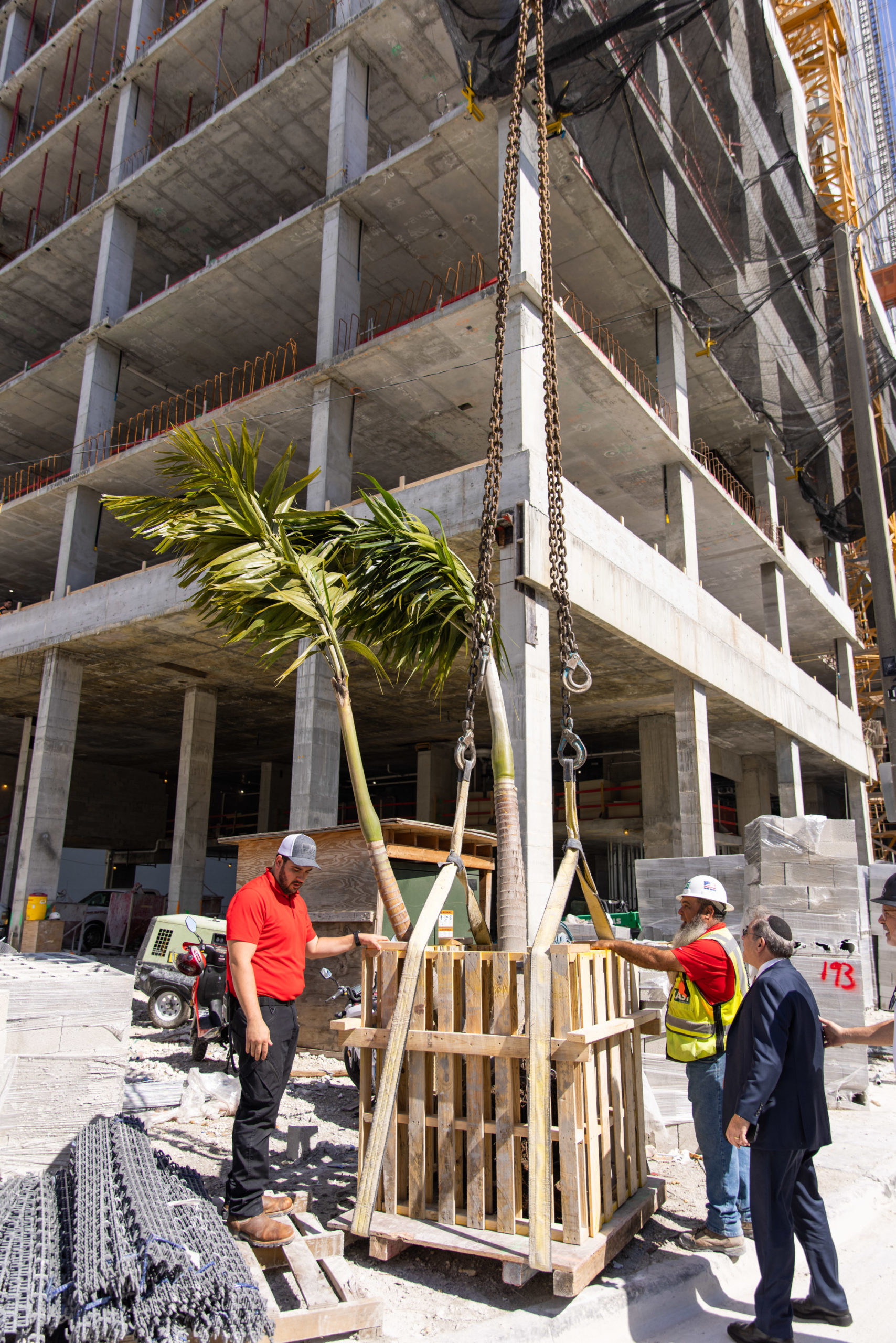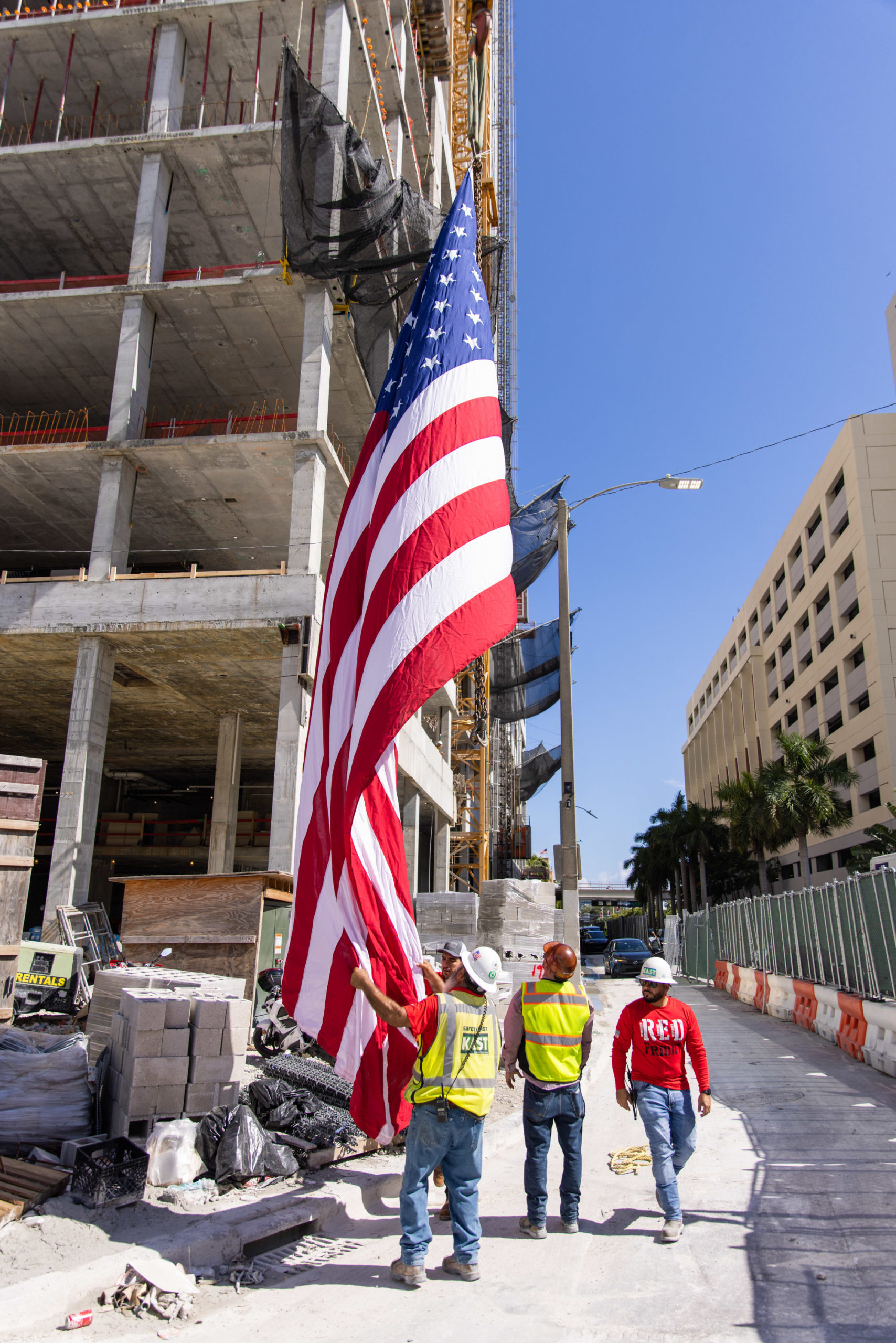 All attendees signed a beam that will be installed on the building's center, which served as a unifying symbol, and gave thanks to the many construction employees who worked together to build the structure ahead of schedule.
"We finally made it to the top," exclaimed Russell Galbut, Chairman of the Board at GFO Investments. "In less than 64 weeks since pouring the foundation, the team at KAST Construction, L&R Structural Corp., and the many parties involved were able to build this extraordinary structure, which will soon house Gale Port Miami Hotel, the closest hotel to the Port of Miami and the building's new luxury residences will be one of the most unique locations to live, work and play, offering one-of-a-kind hybrid hospitality-residential experiences."
The "vertical neighborhood" will open in Downtown Miami just south of the World Center and directly west of the Freedom Tower. It's the first tower in the heart of downtown Miami to offer condo units, a luxury hotel, Class-A offices, four restaurants with four bars, and a social club with glamorous appeal and pristine views of Biscayne Bay. Upon completion, the building will have 448 residential condominium units and a 125,000-square-foot office component.
The building will also house a 240-room hotel, Gale Port Miami, which will feature expertly designed hotel suites, perfect for extended stays and families. The building's residential-style accommodations will allow guests to immerse themselves in the boutique hotel brand's locally inspired style. Like the hotel's South Beach location, guests can expect the same level of award-winning style and comfort, along with the convenience and level of luxury that the brand is known for. Upon check-in, guests will be immersed in the hotel's high level of service, pampering, and thoughtful attentiveness.
"It's amazing to finally be able to marvel at this iconic structure from the bottom to the top," said Keith Menin, Co-Founder & Principal of Menin Hospitality. "The design of this building's interiors will match the thoughtful architecture and craftsmanship that you see here on the exterior. The hotel and residences will be consistent with the luxury experiences that will set this building apart from others in the market. Each space will have its own unique features that guests and residents will continue to discover and experience."
601 Miami will also serve Miami locals, residents, and hotel guests with The Social Club, which will include a gym, spa, outdoor restaurant, indoor bar + restaurant, sushi bar, lounge, pool, office space, media room, and more. The property will have over 20,000 square feet of event space, offering expansive venues for social functions, gatherings, and meetings.
The ground floor will house a collection of food and beverage outlets, including a 7,100-square-foot Italian restaurant, a grab-and-go concept, and a Bodega Taqueria, which will open its sixth restaurant location in South Florida within the building.
"As the exclusive sales firm for 601 Miami, we are thrilled to celebrate a new class of real estate in Miami," said Alicia E. Cervera of Cervera Real Estate. "During pre-construction, we were able to sell out 60 percent of the units prior to breaking ground and by last year we were sold out. We look forward to the next step in the journey, which will be welcoming our guests and residents in 2023."
Attendees also had the opportunity to participate in a raffle, which included a variety of prizes, including LCD televisions, bicycles, a vacation complimentary of Norwegian Cruise Line, and a future stay at one of Gale Hotel properties in South Florida. Bodega Taqueria, a brand partner and future tenant within the building, catered for the event, which was attended by 500 people.
The 'Topping Off' ceremony is a long-standing tradition in construction derived from an ancient Scandinavian builder's rite held when the highest beam of steel is placed atop a structure during construction. Natiivo (601 Miami) and Gale Port Miami will open in Miami in 2023.
Subscribe to YIMBY's daily e-mail

Follow YIMBYgram for real-time photo updates
Like YIMBY on Facebook
Follow YIMBY's Twitter for the latest in YIMBYnews