Visions Resort & Spa has officially broken ground, marking the start of construction on the initial phase of the $170 million mixed-use resort community. Designed by Concepto Taller de Arquitectura with interiors by CastillonVanHam and developed by Urban Network Capital Group (UNCG) in partnership with Vertical Developments, the wellness-forward master-planned community will feature luxury single-family homes and townhomes, a 180-unit condo-hotel, and 70,000 square feet of retail space. Residences are designed for short-term stays, allowing owners to rent them through the property's exclusive hotel program.
UNCG, its development partners, and friends gathered at the development site at 7007 Osceola Polk Line Road in Davenport, Polk County, Florida, for the groundbreaking ceremony on November 15. The celebration continued at the Visions Resort & Spa sales gallery, where brokers and real estate professionals joined to commemorate the occasion.
"Visions Resort & Spa is reimagining the vacation rental experience for both owners and travelers with our innovative, eco-friendly approach to hospitality development and property programming under the Visions brand," said Robert Thorne, CEO and principal of Urban Network Capital Group. "From the outset, we imagined a thoughtfully planned community, where wellness and design are the cornerstones, with all the comforts of home, yet with the luxuries of a five-star resort. We are thrilled to see our vision become reality and look forward to Visions Resort & Spa becoming a place where those of all ages will make memories and return year after year."
Strategically situated in a popular vacation rental market, Visions Resort & Spa aims to offer visitors an upscale lifestyle experience that integrates functional family fun.
The expansive grounds of the resort feature 48 eight-bedroom single-family homes, each showcasing contemporary design and luxury within a nature reserve. Additionally, there are 132 six-bedroom multilevel townhouses, each designed to balance community living with panoramic views. Residents can access 24-hour concierge services, underscoring the resort's focus on convenience and comfort. The architectural design of each space is modern, combining aesthetics and functionality.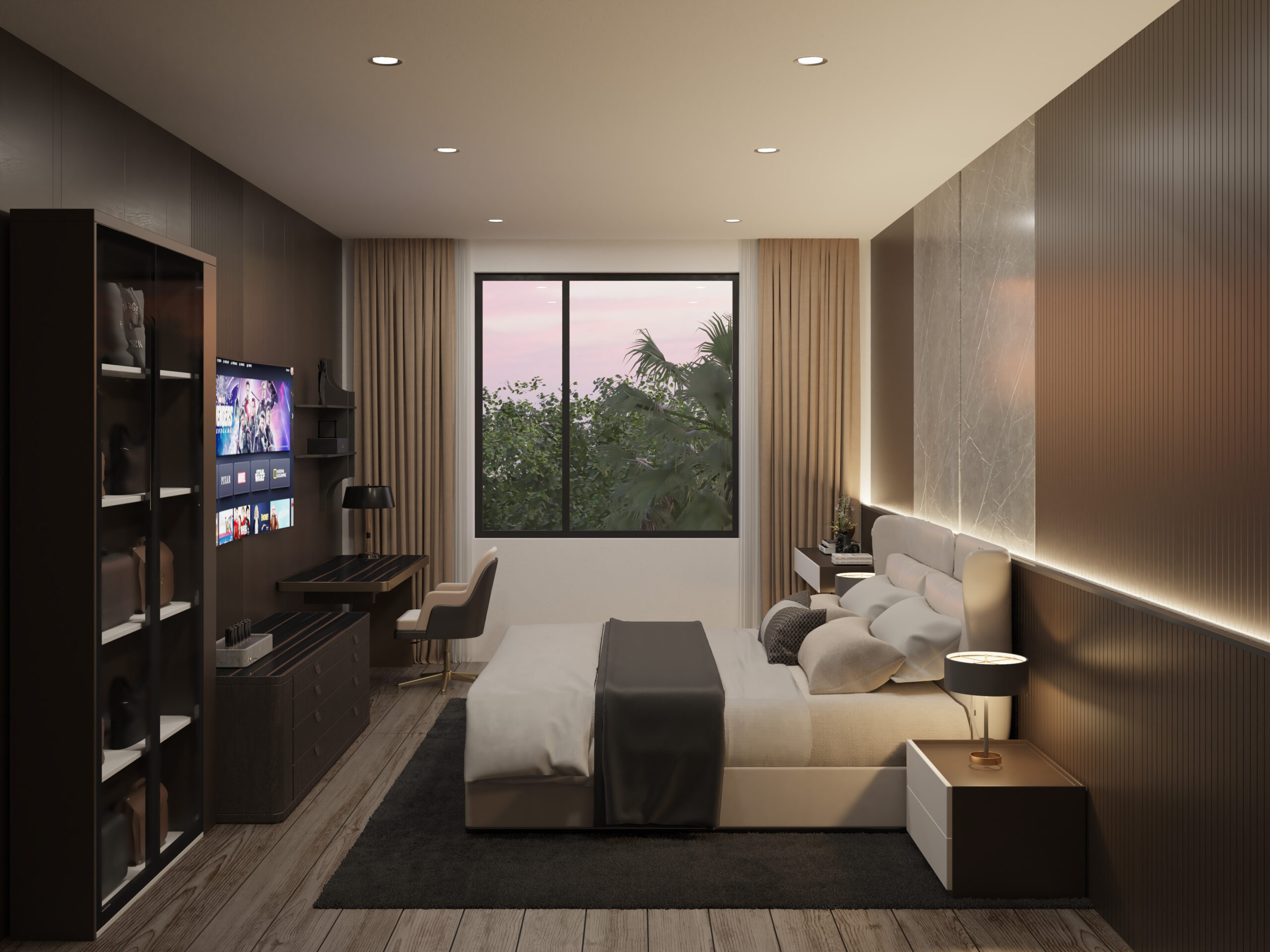 Visions Resort & Spa. Credit: Urban Network Capital Group.
Prices start at $229,000 for condo-hotel units and go up to $879,000 for single-family homes. The units, furnished with modern, family-oriented decor, include high-quality finishes like granite countertops, Italian cabinetry, and premium appliances.
The project features a range of amenities. A 12,000-square-foot clubhouse will offer indoor-outdoor recreation, entertainment, and dining options, including golf and racecar simulators, an arcade, a game room, a movie screening room, and a kids' playroom.
Outdoor amenities include a resort-style pool with a deck, cabanas, a wet bar, and various sports courts for activities like pickleball, tennis, badminton, volleyball, and more. A meditation garden, Pilates and yoga center, a state-of-the-art gym, and an outdoor cross-training area cater to wellness enthusiasts. Additionally, luxury retail outlets will be part of the outdoor commercial space.
Since the launch of sales for its townhouses and single-family homes last fall, Visions Resort & Spa has experienced strong interest from domestic and international buyers. This interest has led to a complete sellout of the townhouses and an 85 percent sellout of single-family homes and condo-hotel units before construction began. The project is planned in multiple phases, with the initial deliveries scheduled for the first quarter of 2025. UNCG has expressed interest in continued development in Osceola County.
Visions Resort & Spa is 10 minutes from Orlando's Interstate-4, near top-rated entertainment centers and theme parks such as Disney's Magic Kingdom, Epcot, Hollywood Studio, Universal Studios, Animal Kingdom, and SeaWorld Orlando. It is also conveniently close to premium outlets, shopping areas, professional golf courses, dining, and recreational spots.
The resort is easily accessible from Orlando International Airport. It is now connected to South Florida cities like West Palm Beach and Miami via the Brightline high-speed passenger train station.
Subscribe to YIMBY's daily e-mail

Follow YIMBYgram for real-time photo updates
Like YIMBY on Facebook
Follow YIMBY's Twitter for the latest in YIMBYnews