Back in 2018, the city of Miami had reached a new milestone in skyscraper construction with the completion of the Panorama Tower, an 85-story mixed-use building standing 868-feet over Brickell. Designed by Kobi Karp with Moshe Cosicher of the AIA as the architect of record, and developed by Florida East Coast Realty led by Tibor Holl0,  the structure currently holds the title for tallest in the state of Florida and also the tallest residential building south of New York City, surpassing the Four Seasons Hotel Miami which held the title from 2003 to 2017.
The building contains a mix of 821 luxury rental apartments, 208 Hyatt Centric hotel units, 100,000 square feet of premium office space and 50,000 square feet of prime retail space. It's main frontage is along Brickell Bay Drive to the east with Southeast 11th Street to the south, specifically addressed as 1100 Brickell Bay Drive and towering over several other neighboring towers such as Sabadell Financial Center, The Mark on Brickell, The Yacht Club on Brickell and 1001 Brickell Bay Drive. The combination between the tower's prominent height and it's proximity to the waterfront allows for panoramic views of the Downtown area, Biscayne Bay, Miami Beach and beyond to the Atlantic Ocean.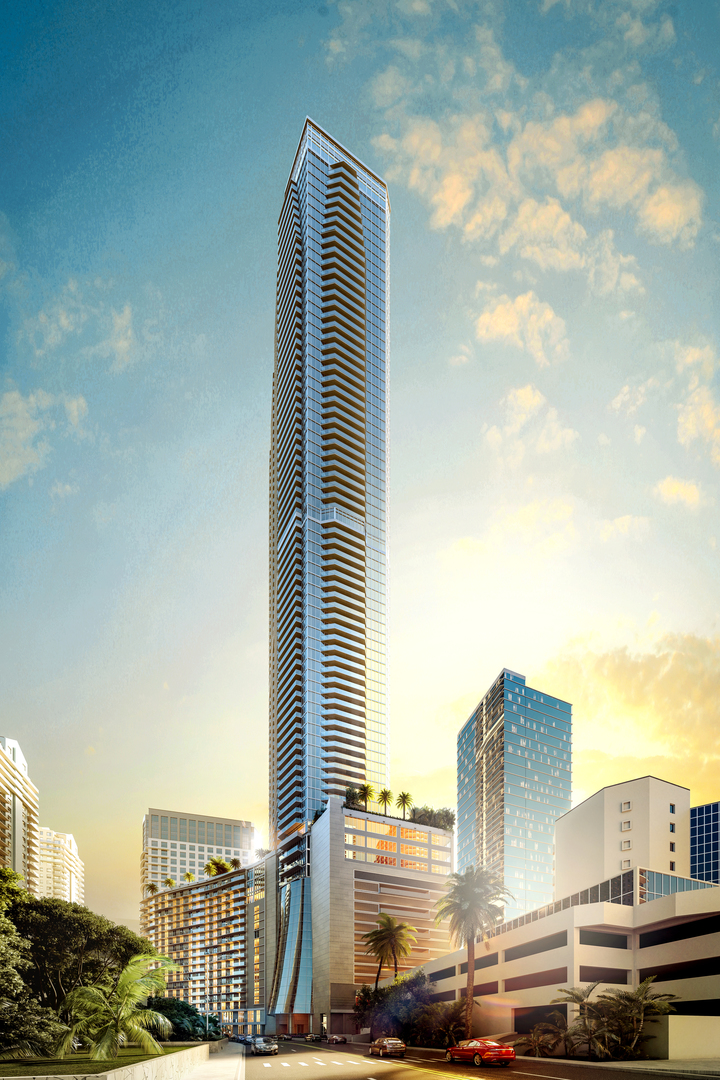 Panorama Tower. Designed by Kobi Karp.
Construction prep on the site began in 2013 when the demolition of the former parking garage occurred. Excavation and foundation work occurred throughout 2014, followed by vertical construction in 2015. It officially surpassed the previous tallest tower in March of 2017, and finally topping out the following April at 868-feet. Panorama Tower added 2.6 million square feet of real estate upon completion, additionally taking the title for largest building in terms of square footage.
The units come in a mix of 1-bedroom, 2-bedroom and 3-bedroom generously sized floor plans, starting from 1,100 square feet for the 1-beds, as large as 1,600 square feet fo 2-beds, and all 3-beds start from 2,100 square feet. All units feature 9 foot ceiling heights and floor-to-ceiling windows with breathtaking water and city views, superior soundproofing, Bosch appliances, Delta fixtures and private balconies. Where the tower really shines is in it's amenity spaces totaling 100,000 square feet, which offers residents access to three theaters, exercise studios, kids play room, pampered dog run, pools, bars, private dining room, cyber cafe, social lounges, music studio, and a game room with golf simulator. The Hyatt Centric is located within the lower levels of the building, sharing the base alongside a 2,000 car parking garage within a 22-story podium that wraps around the tower.
"From arrival at the private porte cochere and two-story grand lobby entry up to the expansive amenity level, Panorama is alive 24/7 with nearly endless opportunities for wellness, socializing, and luxury services. The 22nd floor sundeck wraps around the whole tower, with approximately 50,000 square feet featuring ocean- and sunset-view pools, splash pool with interactive water features, and a poolside café and bar. Residents also can reserve the beautifully-furnished social lounges and private dining and wine tasting rooms, enjoy the sports room and cocktail lounge, screen movies or host events in one of three private theaters, or hang out in the wifi-equipped cyber café and coffee bar. Pet lovers have their own pet spa that offers grooming, boarding, and daycare services, and Panorama families can enjoy the inviting and fun children's playroom. Also, for every resident who wants to sing and jam without restraint, there is a dedicated, sound-proof Music Room."
Panorama Tower will continue to hold the title for tallest skyscraper in Florida for a few more years, up until Miami's first supertall Waldorf Astoria Miami reaches its projected completion date some time in 2026.
Subscribe to YIMBY's daily e-mail

Follow YIMBYgram for real-time photo updates
Like YIMBY on Facebook
Follow YIMBY's Twitter for the latest in YIMBYnews