Palm Beach-based real estate developer Frisbie Group has filed applications with the Federal Aviation Administration seeking approvals for Flagler Towers, two 27-story residential buildings planned to rise at 1315 South Flagler Drive along the Intracoastal Waterway in West Palm Beach. The applications indicate the developer intends to build 379-foot-tall structures, featuring designs by New York City's Robert A. M. Stern Architects (RAMSA) with interiors by Pembrooke & Ives, replacing an existing 57-year-old 83-unit student housing complex named Flagler Tower. The pair of towers would rise just north of Norton Gallery Park, bound by South Olive Avenue, Diana Place and Currie Crescent.
Back in June 2021, the South Florida Business Journal reported that property owner Palm Beach Atlantic University was planning to sell a portion of it's campus to a condo developer for a 27-story project, which coincides with the FAA filing at the exact same location. The city's Plans and Plats Review Committee had received a rezoning request from FH3 LLC, an affiliate of the Frisbie Group, requesting to rezone the 3.4-acre property from "multifamily high density" to "residential planned development.". The West Palm Beach property appraiser still lists the university as the owner of the site, but the developer may still be under contract to purchase it from them, especially after the filing to the FAA.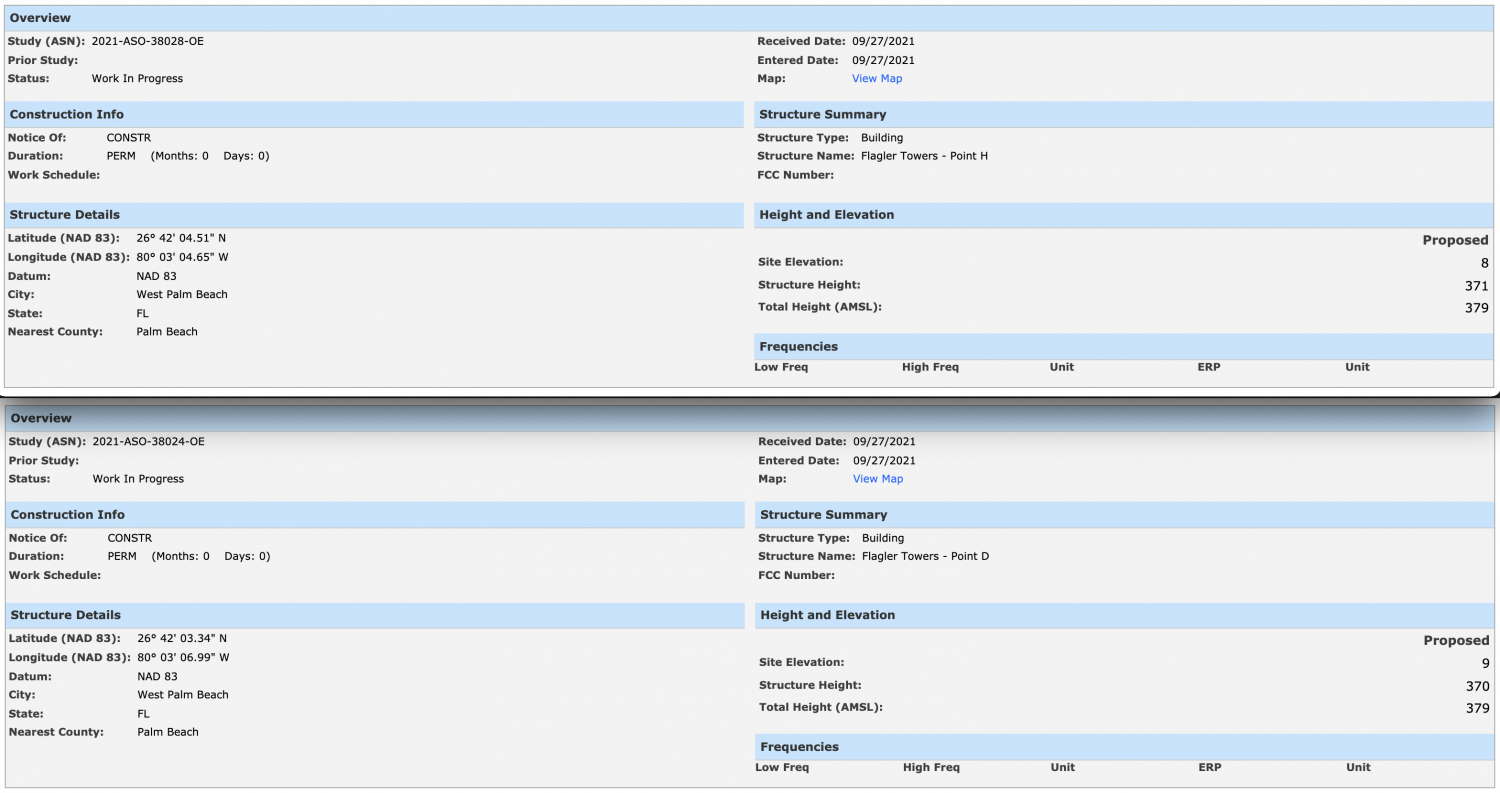 Proposed Cases. Courtesy of the FAA.
The towers are designed in typical RAMSA fashion, which is depicted in the renderings below featuring multiple setbacks, outdoor terraces, balconies, bay windows on the upper condo levels and arched windows on the lower townhouse levels. The renderings are not fine in detail, but one can assume the facade would be composed of some type of limestone, which is commonly used across several projects from the firm in New York City such as 220 Central Park South, 15 Central Park West, 520 Park Avenue and 30 Park Place.
Plans call for the construction of 728,365 square feet of new real estate across both towers, including 100 condos, 9 townhouses, 10 suites for guests of condo owners, a 312-space parking garage, and 8,184 square feet of restaurant space. The townhouses on the lower levels of the structures will range between 1,524 square feet and 2,676 square feet. A majority of the condo units will fall in between 3,412 square feet and 6,199 square feet. The full-floor penthouse units start on the 23rd floor, approximately ranging between 7,570 square feet and 12,000 square feet. Residential amenities include three pools, cabanas, a fire circle, a game room, a lounge, a yoga room, a gym, a boxing room, and a kid's room.
A time frame for demolition, ground breaking, and construction has not been announced as of yet.
Subscribe to YIMBY's daily e-mail

Follow YIMBYgram for real-time photo updates
Like YIMBY on Facebook
Follow YIMBY's Twitter for the latest in YIMBYnews