For years, students at the University of Florida (UF) have longed for more on-campus housing, having to rent locally in the area or learn remotely. However, that's all about to change. Honors Residential College (also known as "Gator Village") will provide living spaces for 1,400 students, according to UF's website.
It will include four five-story residential buildings and a two-story common area building, per the Independent Florida Alligator. UF hopes to start the project next year in 2022 and finish the venture in 2024. It will cost over $225 million to complete and replace the Broward Outdoor Recreational Complex.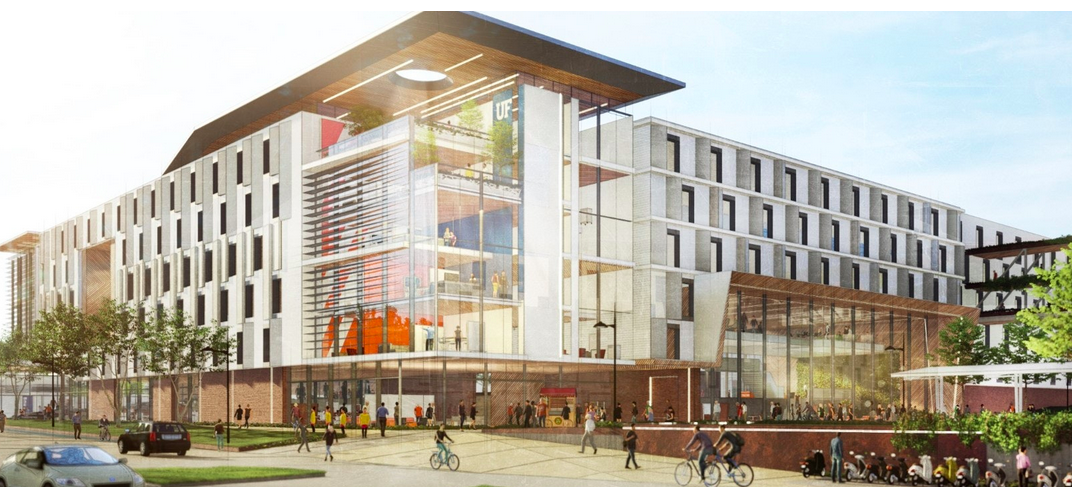 Honors Residential College is more than dorm rooms. The facility will host classrooms, makers' studios, a hammock garden, and other communal spaces. It was designed by VMDO Architects, which is based in Virginia.
Conceptual renderings show multi-level buildings that rest alongside the area's surrounding flora. They have mostly glass exteriors and open-air courtyards. The ground floor will provide lockers available to upper-class students or those who commute to campus.
In 2002, UF unveiled the Honors Residential College at Hume, which has served the residential honors community for nearly 20 years. When the new building unveils, the old building will be available to non-honors students.
Honors Residential College will be located on UF's campus in Gainesville, FL, in Alachua County.
Subscribe to YIMBY's daily e-mail

Follow YIMBYgram for real-time photo updates
Like YIMBY on Facebook
Follow YIMBY's Twitter for the latest in YIMBYnews