The prominent Coto Family of Argentina has set sights on a striking new addition to Miami's skyline. In a recent letter of intent submitted to the Miami-Dade County Planning Department, Millennium Developments of Brickell, LLC, an affiliate of G&G Business Developments led by the same team behind the Aston Martin Residences, has formally requested a pre-application meeting to discuss its latest endeavor: 'Calle 8'. Designed by BMA and proposed for 190 Southwest 8th Street in Brickell, the 55-story mixed-use development would soar to 685 feet, or 699 feet above mean sea level, and comprise 464 residential units, a 467-space parking garage, and various other spaces.
This project would find its home on an approximately 0.92-acre parcel of land along Southwest 2nd Avenue, between Southwest 8th and 9th Streets, currently used as a gas station. The location couldn't be more prime, with easy access to popular attractions such as Brickell City Centre and Mary Brickell Village. Moreover, it's conveniently close to the Brickell Metromover and Eighth Street Stations, making it a transit-friendly hub within the heart of Brickell.
The proposal aligns with the height of the FAA permits approved in May, which we initially categorized as two structures of 685 feet above ground – based on the quantity and coordinates of the filed permits.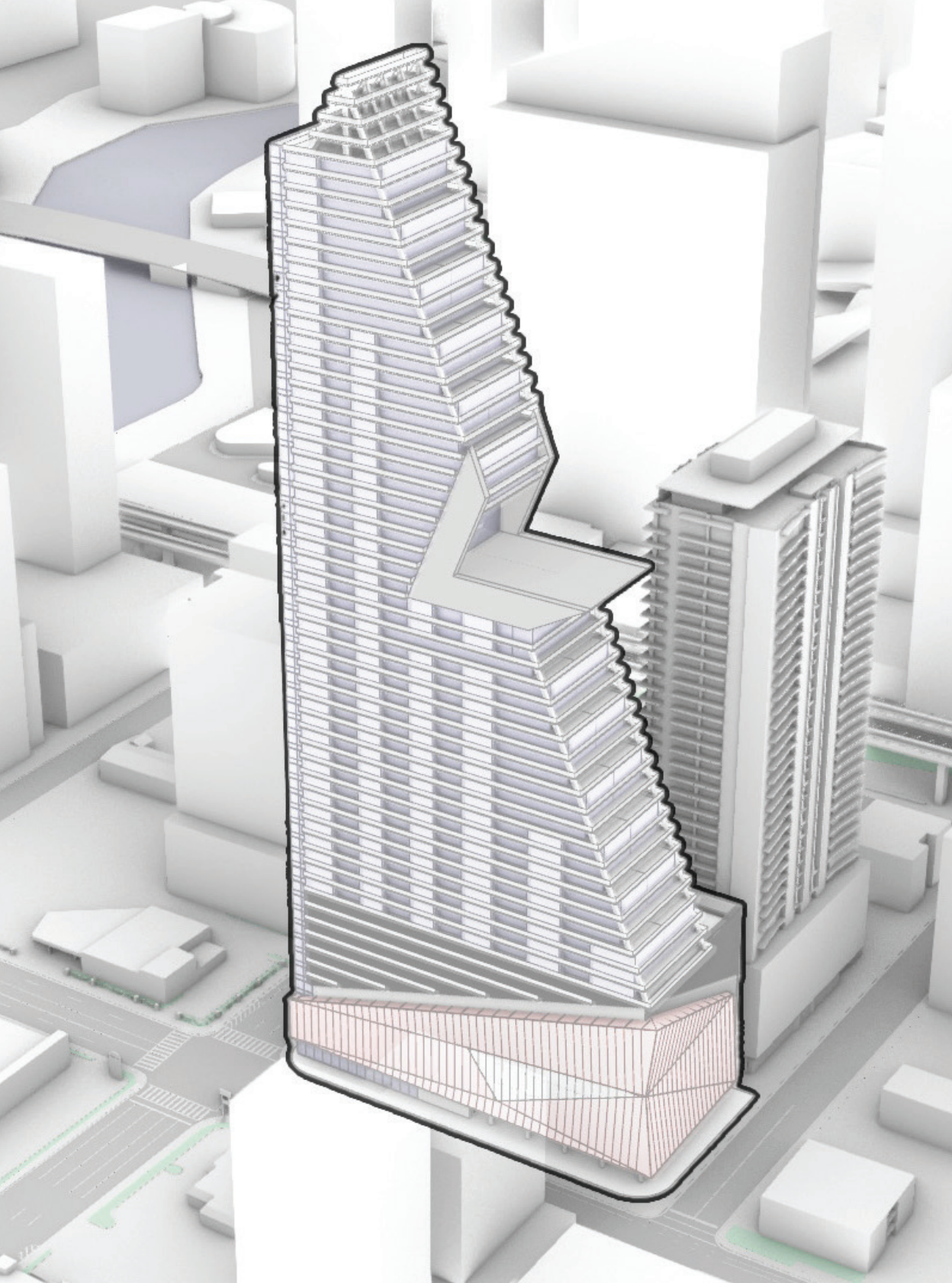 Calle 8 – Concept Diagram. Credit: BMA.
Calle 8, tentatively named after 8th Street in Spanish, boasts a remarkable architectural profile that seamlessly marries elegance and functionality. It is poised to become an iconic addition to Miami's skyline. Featuring a distinctive trapezoidal silhouette and a staggered tower design, the building's multi-dimensional base is dedicated to vibrant uses and adorned with light-colored paneling, adding dynamism to the streetscape. As the tower rises, its glass-clad exterior comes into view, and step-backs create space for additional commercial and civic purposes, enriching Brickell's cultural landscape.
Within this proposal, the developer presents a versatile approach to the spaces spanning from the ground floor to the fifth floor. Two distinct programming options are currently under consideration: one entails a multi-level Concert Hall, while the other explores the possibility of a multi-story retail complex, which could potentially accommodate a department store or similar retail offerings.
The residential floors take on a tiered arrangement, adding architectural appeal while creating space for an outdoor recreational deck, an enticing feature for future residents and guests. These outdoor amenities will complement the Project's indoor residential offerings, promising a well-rounded living experience.
Located within the Urban Core and proximate to various County transit facilities, Calle 8 is poised to support mass transit and promote walkability, aligning perfectly with the County's Rapid Transit Zone policies. The development's mixed-use nature complements the lively neighborhood, creating an enticing live-work-play environment.
The 464 residential units comprise 252 studios, 37 one-bedrooms, 167 two-bedrooms, 7 three-bedrooms, and 1 full-floor penthouse. While it remains unclear whether these units will be offered as rentals or condos, their size spans 598 to over 1,200 square feet. The inclusion of a full-floor penthouse strongly suggests the possibility of condos for sale. Amenities would be located on levels 33 through 37, including an outdoor pool, and level 12 would offer coworking spaces.
According to the diagram below, the tower spans 55 stories, but it appears a few floors above the roof will hold mechanicals and the bulkhead encased in a triangular pointed crown.
Details regarding the involvement of other design, engineering, and construction firms have not been disclosed. However, given the success of the Aston Martin Residences, which was also designed by BMA, it is reasonable to assume that a similar, if not the same, team would be engaged in designing and developing this project. For reference, the 67-story Aston condo tower had Revuelta Architecture International as its architect of record, with DeSimone Consulting Engineering serving as the structural engineer. Additionally, it's worth noting that Coastal Construction served as the general contractor for the Aston Martin Residences, in collaboration with Capform, Inc., who acted as the shell contractor for the project.
A specific meeting date has not been requested for Calle 8, but the next stage from here will likely been a request for Administrative Site Plan Review.
Subscribe to YIMBY's daily e-mail

Follow YIMBYgram for real-time photo updates
Like YIMBY on Facebook
Follow YIMBY's Twitter for the latest in YIMBYnews