Sites plans for a 30-story multifamily mixed-use building have been filed with Fort Lauderdale's Development Review Committee (DRC) addressed as 501 Northeast 4th Street in the city's Downtown Core. The building would rise approximately 380-feet tall and would yield 441,654 square feet of space including 270 residential units and 2,680 square feet of ground floor retail space. The project is designed by Fort Lauderdale's very own FSMY Architects + Planners with landscaping by Architectural Alliance Landscape and is being proposed for development by Mainstreet NCC Flagler LLC, an entity managed by Paul J. Kilgallon of Mainstreet Capital Partners (Mainstreet). The project is currently dubbed Flagler Sky View, and was scheduled for review on June 14, 2022.
The 0.7-acre property is generally located in the Flagler Village neighborhood on the northeast corner of Northeast 4th Street and Northeast 5th Avenue, encompassing the addresses 501, 509, 513 and 515 Northeast 4th Streets. As per the South Florida Business Journal, Mainstreet acquired three of the sites in December 2021 for $9.75 million. 515 NE 4th Street is under contract from 515 Inc.
As per the site plans, Flagler Sky View will have usable open space consisting of a plaza at the southeast corner with raised planters and an outdoor seating area along NE 4th Street. The podium rises 7-stories, which is the maximum allowance in the area. The ground floor would be activated to the greatest extent, fit with an aluminum storefront system with clear glass, slat cladding, grey aluminum suooirts and smooth stucco. Residents would be welcomed by a residential lobby, a co-work area, and commercial space at the intersection.
The parking garage would not be visible along any street frontages thanks to an architectural mesh screen. The building tops out at 355-feet, and the addition of the roof parapet and screening mechanisms on the roof raises it up to 380-feet. All mechanicals and rooftop equipment would be adequately screened.
The developer describes the structural and facade aspects of the project as "heavily articulated with folding elements to draw your eye skyward. The faces of the tower are modulated with a fine textured field of open balconies on both the east and west facades, contrasted by glass surfaces on the north and south. The folding elements reflect the internal program by marking the corner wrap-around balconies and highlighting the levels with internal loft units. These serve to not only add interest to the massing, but also to break down the tower's scale."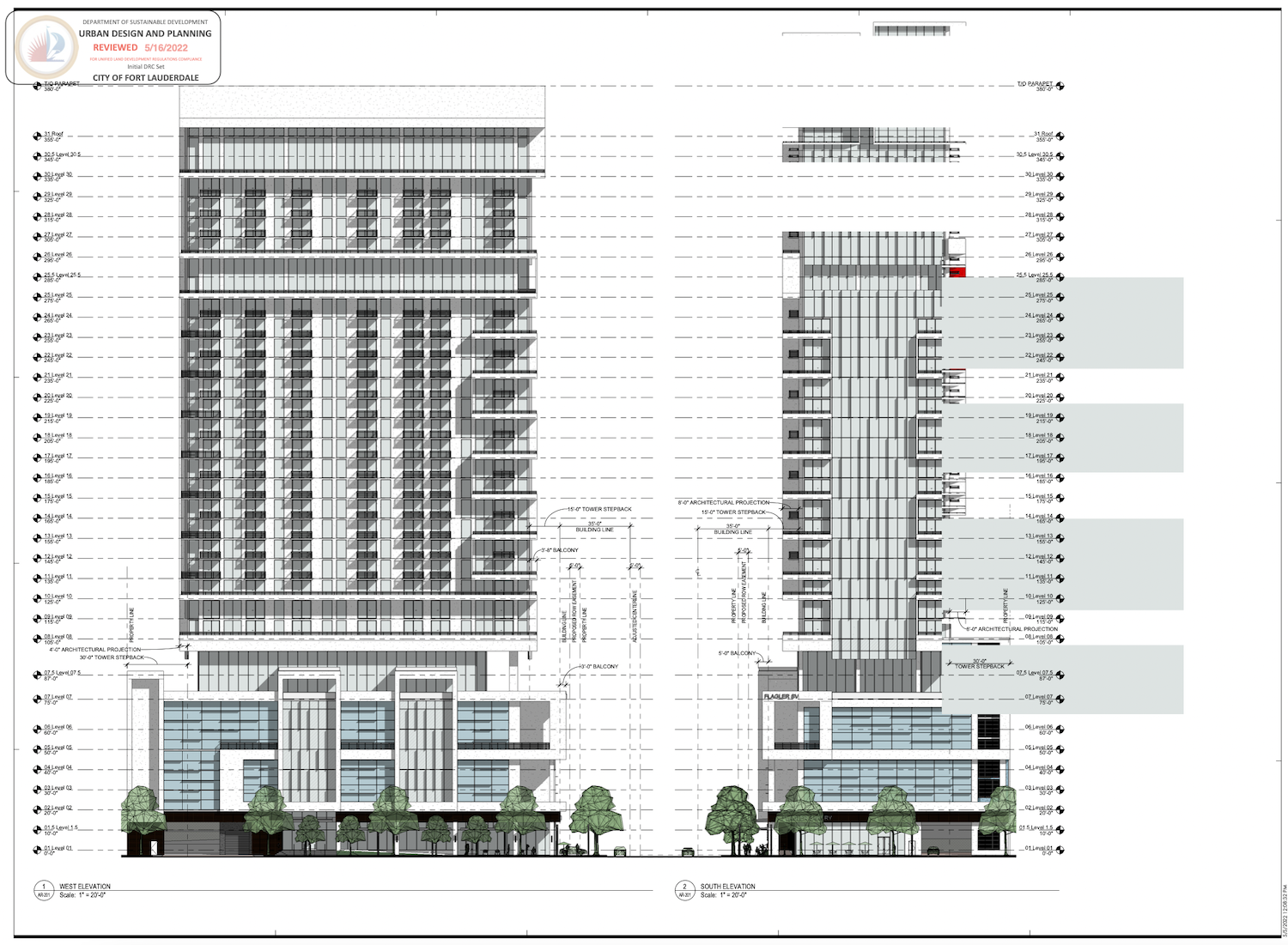 Residential units are planned to come in a variety of floor plans including studio, one-bedroom, two-bedroom and two-bedroom + den ranging between 512 and 1,316 square feet. The parking garage would accommodate 322 vehicles. The amenities would be located on the 8th floor just above the parking garage.
Subscribe to YIMBY's daily e-mail

Follow YIMBYgram for real-time photo updates
Like YIMBY on Facebook
Follow YIMBY's Twitter for the latest in YIMBYnews