Construction has topped off on EDEN West, two residential buildings located at 8501 West McNab Road in Tamarac, Florida. Designed by MSA Architects and developed by CE Tamarac LLC, a joint venture between Cypress Equity Investments and EDEN Multifamily led by developers Jay Jacobson and Jay Massirman, the 4-story structures will yield 212 garden-style multifamily units, a robust amenity offering and 360 parking spaces on 6.24-acres of land between Northwest 70th Street, North Pine Island Road and West McNab Road. ANF Group, Inc., the project's general contractor, first broke ground in the Spring of 2021, and is expected to complete construction in Q4 of 2022.
A recent aerial photo provided to YIMBY by a representative of ANF Group, Inc. shows the two topped out 4-story structures from an east-facing perspective. Structural work is complete and is now shifting over to the exterior scope of smoothing down the concrete walls with stucco, paint work, glass installation on the windows and installing aluminum railings on the balconies. Several prominent corners of both buildings will eventually feature roof cornices, as depicted in the renderings. The rest of the open space around the property will be fully landscaped and lined up with outdoor parking spaces.,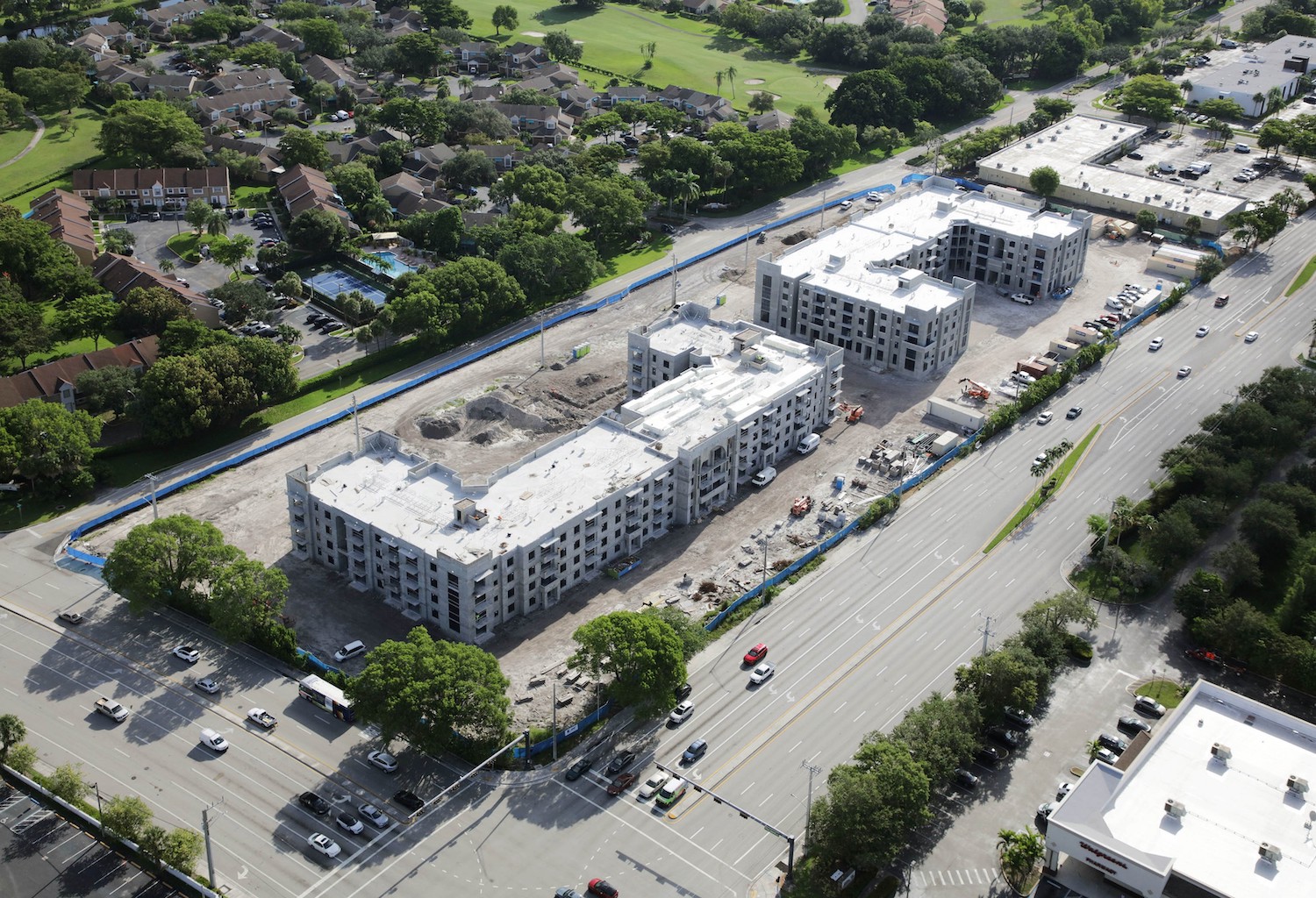 ANF Group Topping Out of EDEN West. Credit: Smith Aerial Photos
Google Maps has yet to update the aerial view of the site, which allows us to compare the previous condition from around February 2021 prior to demolition. The property was once home to an obsolete shopping center and aged office building.
EDEN West will offer Class-A apartment units paired with amenities including  a saltwater pool, a fitness center, a clubhouse, a dog park, and grilling area.
A statement from the general conaractor.
"We are excited to reach this construction milestone in topping out on this project as our team has worked steadily to reach this landmark," said Al Fernandez, president of ANF Group.  "We are grateful for partnering with EDEN Multifamily and Cypress Equity Investments on this development and look forward to completing this project as demand for apartments continues to be on the rise."
Subscribe to YIMBY's daily e-mail

Follow YIMBYgram for real-time photo updates
Like YIMBY on Facebook
Follow YIMBY's Twitter for the latest in YIMBYnews