The installation of the glass curtain wall is steadily progressing on Missoni Baia, a 57-story, 649-foot-tall luxury residential tower under construction at 700 Northeast 26th Terrace in Edgewater, Miami. Designed by Asymptote Architecture with Revuelta Architecture International as the architect of record, the structure occupies a floor area of 54,603 square feet across multiple lots, bounded by Biscayne Bay to the west, Northeast 26th Terrace to the north and Northeast 26th Street to the south.  Being developed by 700 Edgewater Development LLC, a partnership between OKO Group LLC, Cain International and OB Group, the development is expected to yield 832,192 square feet of space and 249 units.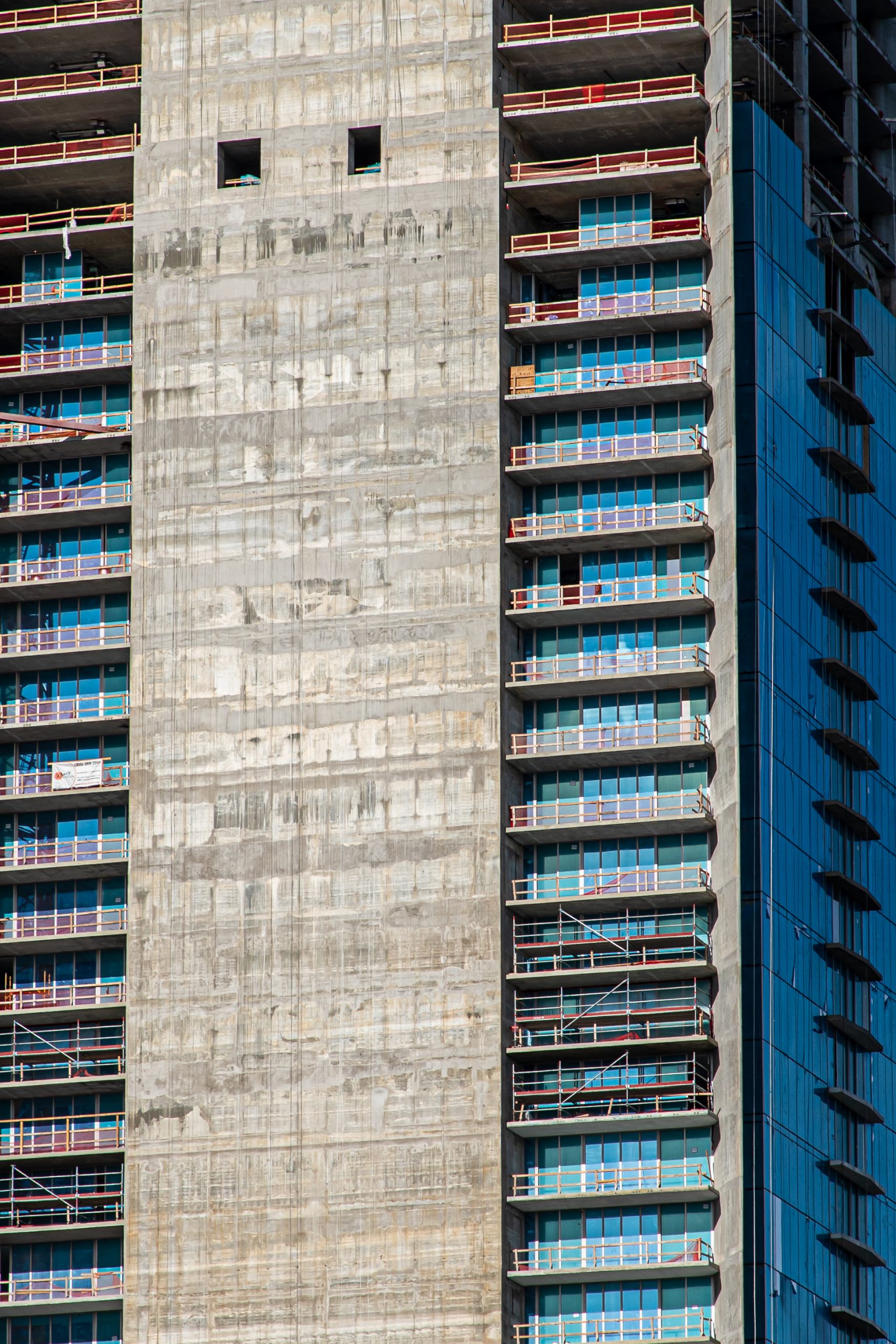 Recent photos show the ascending levels of glass panels, which will serve as curtain walls on all four elevations of the structure. Installation is currently at the 37th floor, which will be designated as a mechanical level. Most of the glass is still protected with blue film; something common to see on most projects. But when peeled off it should feature a slight frosted blue tint. The original renderings for the tower revealed outdoor terraces stretching the entire eastern and western perimeter, but the design was partially changed upon the request from the developer to increase the unit count from 146 to 249. The newer renderings are true to the actual construction, as the core wall is exposed to the west and the terraces weren't constructed beyond it. However, instead of the walls remaining blank, artwork will be placed there for visual purposes.
The reinforced concrete superstructure has yet to top out; it appears roughly 49 – 50 slabs have been formed, leaving 7 – 8 more to go. It's safe to assume topping out should occur some time in the summer, with the glass installation wrapping up not to far after.
When complete, Missoni Baia will stand as one of the tallest skyscrapers in Edgewater, sharing the title along with the Elysee Miami, which also tops out at 649-feet. The 249 residences will be priced from $600,000 – $9,000,000, ranging from 1 bedroom through 4 bedroom layouts, all with interiors by Paris Forino Interior Design. The art-filled parking garage to the west, which is connected to the building via a pedestrian bridge, will hold 399 parking spaces and an amenity space perched at the top. Some amenities will include a landscaped outdoor deck, an olympic and lounge pool, a yoga lawn and spa; the amenities at the tower portion include a fitness center, pantry and bar, dining party room, a wrap-around terrace and bay-facing pool, as well as locker rooms and steam rooms.
Civic Construction is serving as the construction manager, Desimone as the structural engineer.
All construction images taken by Skyalign.
Missoni Baia is expected to reach completion by the end of 2021.
Subscribe to YIMBY's daily e-mail

Follow YIMBYgram for real-time photo updates
Like YIMBY on Facebook
Follow YIMBY's Twitter for the latest in YIMBYnews